iPhone IMEI Checker – Simlock, Carrier, FMI – iCloud Lock
GSX Ful IMEI Check Service.
Check iCloud Lock – OFF/ON
Delivery Time: 1-24h.
Support ANY iPhone Model.
For any Questions – Contact Us.
This service 's official iPhone IMEI Checker to find IMEI Sim Carrier Network lock status, blacklisted, clean, iCloud barred and more by Apple Database Servers. Every single phone equipped with a unique IMEI (International Mobile Equipment Identity) number, which helps the user track down some useful information. With the help of your iPhone's unique IMEI number, you can find out its iCloud status, Simlock status, warranty period as well as its original carrier. But, why should you require this information?
When a user buys an iPhone at a subsidized rate, it can only use with the original carrier for 1 or 2 years. If you have purchased an iPhone second-hand, then this IMEI number will help you not only find out its original carrier but also whether or not it is locked and whether it was reported stolen.
Support Models by our iPhone IMEI Checker service
Check iPhone X/8/8+
Check iPhone 6/6+/6S/6S+
Check iPhone 5/5C/5S
Check iPhone 4S
Check iPhone 4/4S/3GS
Check iPad ANY Model
By using a professional service that helps check your iPhone's IMEI number for you, you can make this task quite easy.
Once your iPhone has been factory unlocked, it will not be bound to its original carrier anymore. You will be able to use this phone with any carrier-across the world. It will not be country restricted, and if you are visiting someplace new, you will even have the option of using a local sim card to avoid roaming charges.
How to use our iPhone IMEI Checker service?
As mentioned earlier, your iPhone's IMEI number helps you track down a lot of useful information, and we can help you do that. But to be able to access this information, you will first need to find out your iPhone's IMEI number and then use it check the various details. To do so, you can follow the steps below:
Step 1: Go to Settings> General>About, OR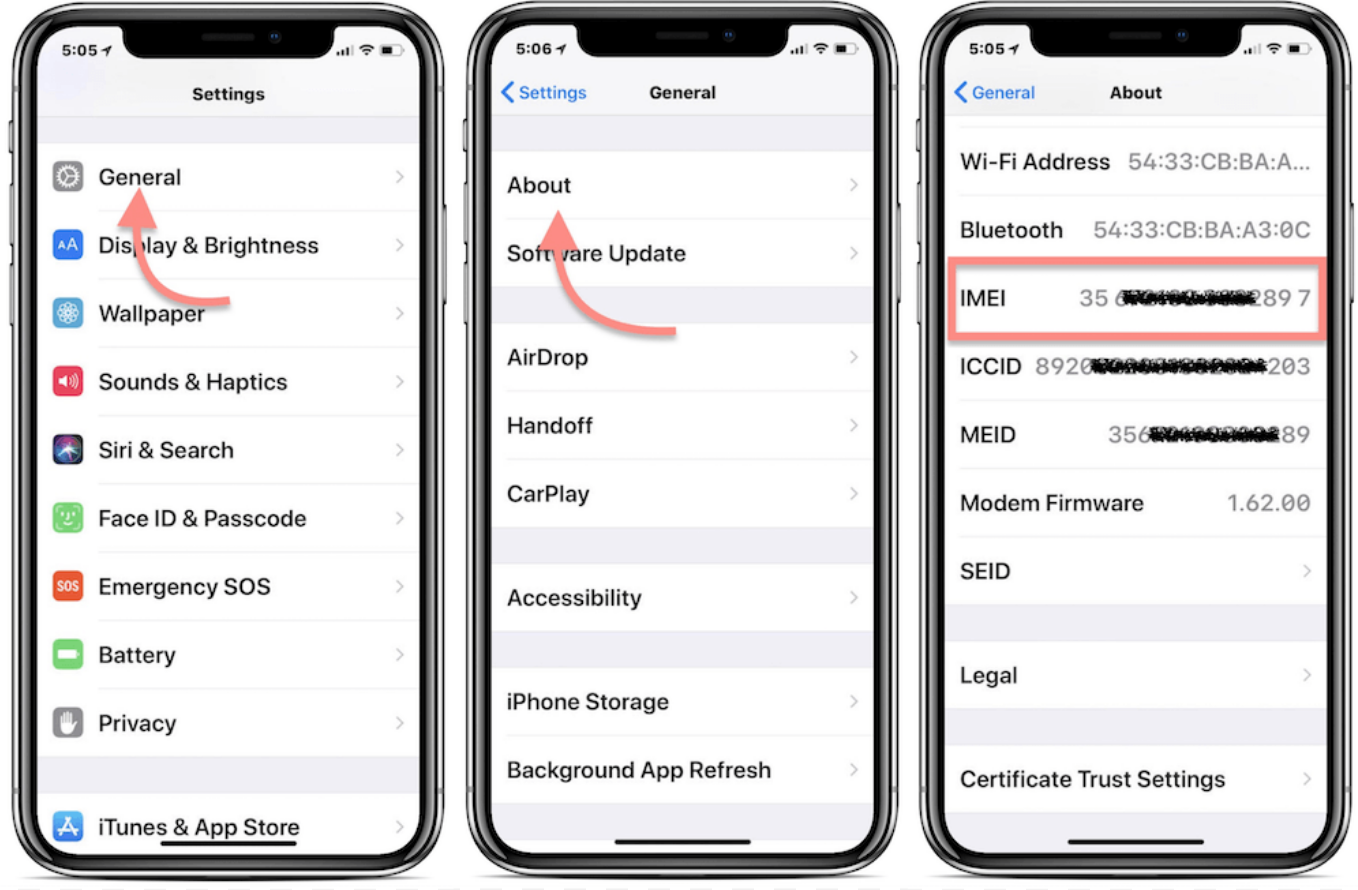 Step 2: Dial *#06#
Step 3: Enter your iPhone's IMEI on our website and place your order.
Step 4: Wait for 10-60 minutes, after which you will receive all of the details for your device.
Information that your IMEI number will provide you with
Your iPhone's IMEI number will help provide you with an amount of information, such as the following:
iPhone model and storage space (GB)
Original serial number of your iPhone
Warranty status of your iPhone
Original carrier of your iPhone
The country your iPhone was bought in
Find my iPhone status
The Unlock status of your iPhone
The IMEI number that you provide will be directly checked against Apple's database. If you receive an email from us saying that your iPhone is "unlocked," it means that your iPhone is factory unlocked and sim-free. When you will receive an email from us, saying that your iPhone is "locked," you will need to use an unlocking service to unlock your iPhone.
To start the process of unlocking your iPhone, you will need to select your device model and carrier. After this process completed, your iPhone's IMEI number will be whitelisted in Apple's database, and your iPhone will be sim-free permanently. It will work with any sim from opposite the world. If you have questions about our service contact us anytime, we are here for you to help you.