NOKIA IMEI Carrier Network Checker – SIM/Lock/Unlock
$1.45
GSX Ful IMEI Check Service.
Delivery Time: 1-24h.
ANY Nokia IMEI Checker Service.
Check Nokia SIM Lock, Carrier Network, Block Status.
You can now quickly and effortlessly check your NOKIA's IMEI code thanks to our amazing NOKIA IMEI Checker service. You can finally confirm the numbers consisting your IMEI code where ever you are and only in a couple of minutes. Thanks to our NOKIA IMEI Checker service you can keep up with all the details about your phone anytime you feel like it. The IMEI code is something that must not be ignored as it is a string of 15 digits that disclose more than just necessary details. That is why every single mobile phone device has an IMEI code that is unique only for that one cell phone device.
As I mentioned earlier a lot of important details can be disclosed if someone knows how to "read" this IMEI code. For instance, with the proper knowledge and tools using the IMEI code you can find out id your mobile phone device is locked or not, blacklisted or not, blocked or not. Furthermore, you can discover what network is your mobile phone locked to. You can also find out about its date of production and the region where it was initially sold.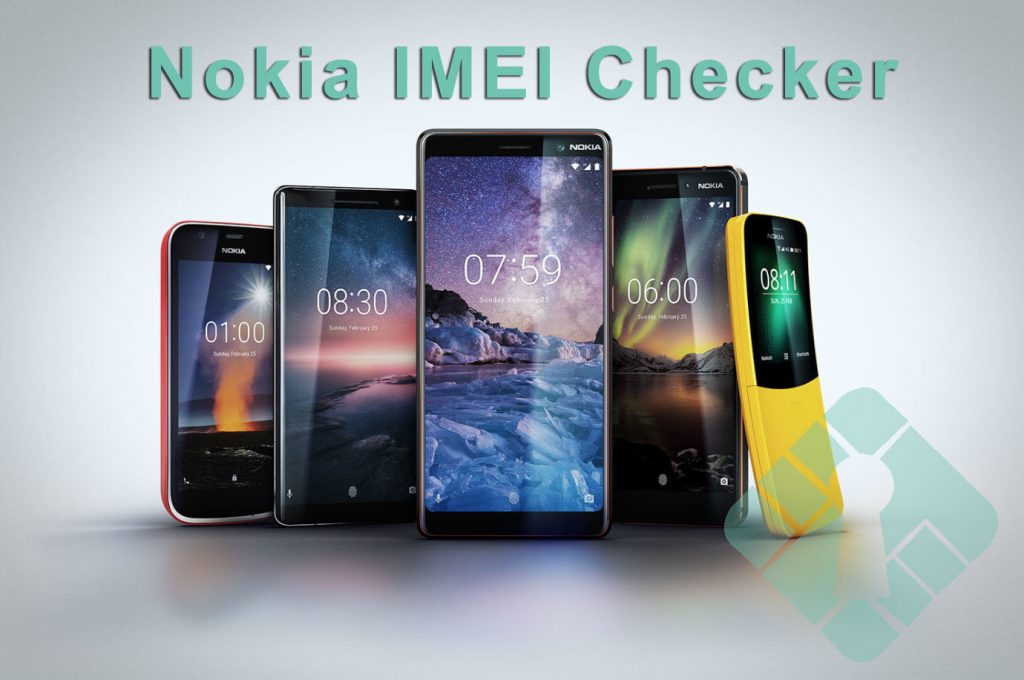 Why do you need our Nokia IMEI Check service?
Our service is not only the fastest one in delivering a positive result, but it is also the most reliable one. You can use the NOKIA IMEI Checker service for any issued NOKIA cell phone models. Also, the Nokia IMEI Checker service is for anyone who needs it. So, if you ever need some more info on your NOKIA device, don't hesitate to look for our service. We can help you check your warranty, the model the unlock status and even the current carrier for your device.
What do you need to do?
All you need to do is send us your unique IMEI code, and then we will do the rest of the work. If you're not sure where and how to find this IMEI code just dial *#06# of go through the settings of your phone and look into the "ABOUT DEVICE ". OUR NOKIA IMEI Checker service is not only handy when you need to check the information about your phone but also when you need to check someone's phone before purchasing it, for instance. The details that we provide are 100% original as they come from the NOKIA servers directly. You can have our complete trust.
Som if you want to know more about your NOKIA mobile phone device here's what you need to do:
Find your IMEI code ( dial *#06# as I mentioned before)
Copy and enter the IMEI code in the appropriate field on the NOKIA IMEI Checker service website.
Click the button that says "check IMEI."
Finish the process.
Wait for at least a minute and get the details you wanted.
You can repeat the process if the details are not delivered in more than thirty minutes.
When your order and your request is processed you will receive many details like:
Network and country from which NOKIA comes from
Purchase date of NOKIA device
System version for NOKIA device
Warranty information for NOKIA device
Example Result from Our NOKIA IMEI Checker
IMEI Number: 243655081332507
Master Number: 243655081332507
Serial Number: H79L302SXRF
DO Number: 4323353727(R2149-0P)
Model Number: RG2G985UZPAHGW
Model Desc: STAR2
Warranty Status: In Warranty
Warranty Until: 15.08.2018
Manufacturer: Lumia NOKIA Electronics
Carrier: USA AT&T
Sold By: United States / 12 April 2018
Ship To: United States / 18 April 2018
Simlock: Locked
The country where your device is bought, the network it is used on when it was purchased, is the warranty still valid, the serial and master numbers, the IMEI code, the SIM lock status, the name or the manufacturer etc.
People pay for a lot of money to know at least some of these details about their cell phones or the cell phones they intent to buy. Our NOKIA IMEI Checker service gives you a lot more insight that you could ever hope for.
Make the order of our NOKIA IMEI Checker service now!
If you have any questions about our Nokia IMEI Checker, or if like to know how to Sim Unlock your Nokia Cell Phone please Contact Us here anytime.