Unlock ZTE Cell Phone by IMEI Code on ANY Carrier Network
$14.50
ZTE Unlock Delivery Time Service: (1-12 Hours).
Unlock ANY ZTE Cell Phone Model.
This is Permanent Unlock ZTE Service.
If you want to use a legal, trusted and safe method of unlocking your ZTE device, then the Unlock ZTE Phone is just the right service for you. There have many reasons why you should trust this service. First of all, the Unlock ZTE Phone does not only guarantee a 100% success, but all the users that have ever tried it are willing to prove that statement right. Second of all, the payment for the service is low, and even if you don't like it, which has never happened before, your money will be sent back in total.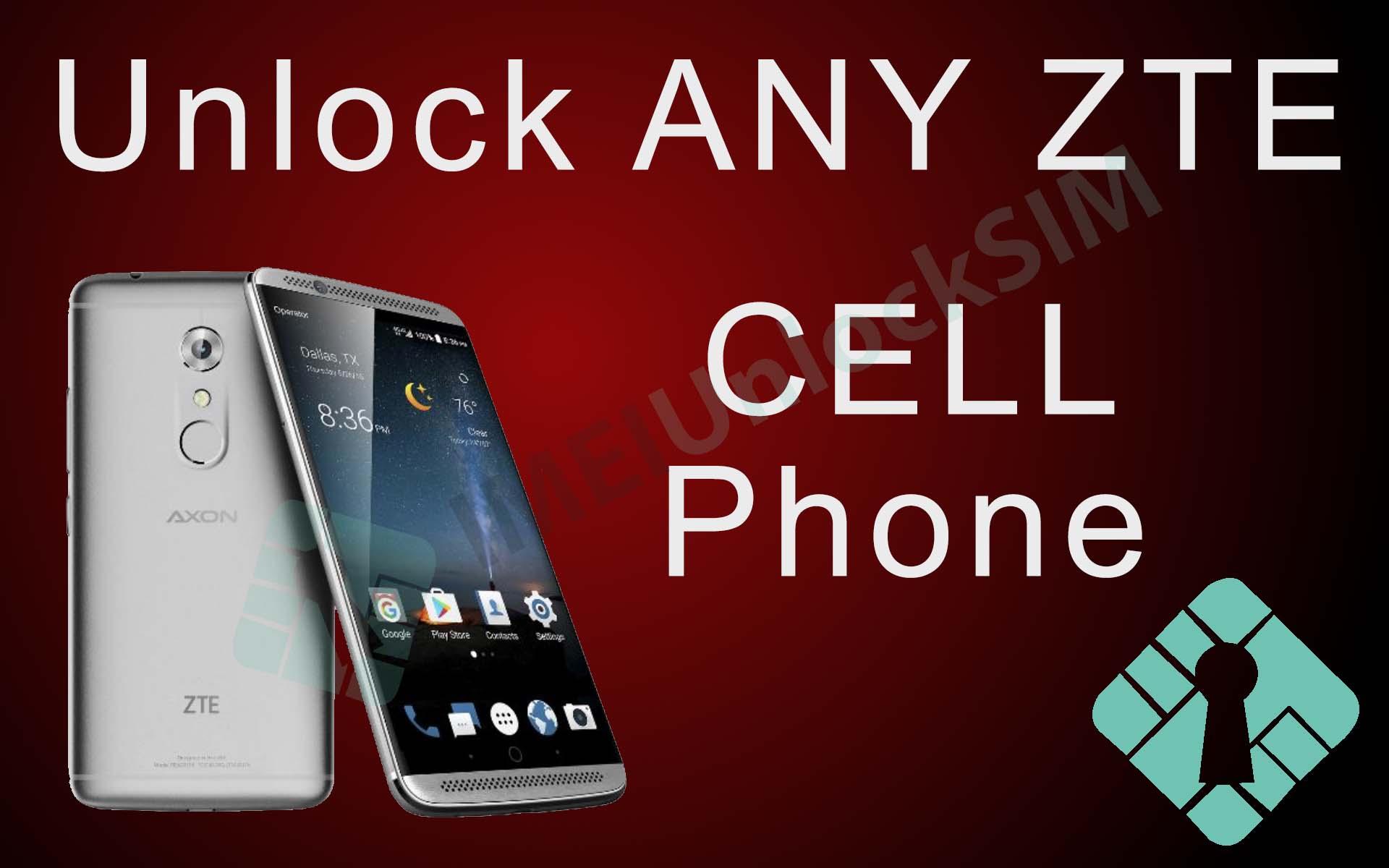 If you want to know more about the Unlock ZTE Phone follow the description in this article and immediately follow our website to place and complete your order.
Video Guide How To Start the ZTE Unlock Process
What do you need to know about the Unlock ZTE Phone service?
This service operates remotely, by using only your ZTE's IMEI code. It is said remotely because you don't need to ship your mobile phone device anywhere and wait for the phone to be sent back to you. Your handset will be in your hands at all times and you will be responsible for it at all times. As for us, we will assist you from the other side of your computer by calculating and generating the original unlock code for your ZTE using only the IMEI code that you will send us.
Our service is compatible and it works on all models of the ZTE brand, such as : Max XL, Blade X Max, Blade Max 3, Nubia N2, Nubia M2 Lite, Nubia N1 lite, Blade Nubia Z11 mini S, Nubia Z17 mini, Nubia M2, Nubia Z9 mini, Blade A2 Plus, V5, Blade V6, Blade L2, Blade G2, Blade A3, Axon M, Nubia Z17 miniS, Nubia Z17S, Blade A2S, Nubia Z17 Lite, Nubia M2 Play, V870, Nubia Z17, V8 Lite, Blade V8 Mini, Hawkeye, ZMax Pro, Small Fresh 4, Nubia N1, Nubia Z11, Nubia Z11 Max, Blade V7 Plus, Small Fresh 5, Blade A2, Axon 7, Z730, Z998, Z992, Grand XM, Blade V8, Blade V8 Pro, CYMBAL-T, Axon 7 Max, Axon 7 mini, and a couple of hundred more.
Also, this goes for all the carriers like T-Mobile, Claro, Netcom, Sprint, AT&T, Rogers, Telia, Orange, Bell, Fido, Kodoo, Vodafone, EE, O2, Movistar, Verizon,Telenor, Cricket, Boost, Sunrise, Swisscom, Telstra, Optus and all the rest I forgot to mention.
Which are the positive sides of this service?
There are many positive sides that I would love to share with you, but I will only mention the most important ones for me, such as:
SIM unlock service has never made a customer unhappy- the unlock is definite and permanent.
You can use any SIM card wherever on the planet you travel or move.
You will quickly deal with the SIM lock issue ( no more than 12 hours)
You will have the warranty as it was before.
You will not need to buy additional software or other tools for the unlocks.
You can unlock your ZTE mobile phone from the comfort of your own home.
You will pay only a little for a favour such as a SIM unlock.
How To Find The IMEI code on your ZTE Cell Phone?
Since I mentioned that you would need to provide the IMEI code of your ZTE, I would like to add a little more on that topic. Every different mobile phone device has a different IMEI code number. That is why this code is so important for the unlock procedure. However, many users don't know where to start searching for this very important IMEI code. I hope that the following will be both useful and handy when you are in the situation of looking for the IMEI code:
You can obtain your IMEI code by dialling *#06# this is the case for all mobile units.
You can see it on a label on the original box of the ZTE device you have.

You can see it on the battery as well.
And finally, the IMEI code is entered into your ZTE's software itself. All you have to do is click SETTINGS> GENERAL> ABOUT PHONE then just scroll down until you see the IMEI code.
For more details and particularities contact our non-stop customer service.